As temperatures reach the ultimate winter lows, staying stylish may present a challenge. Instead of reaching for our ski attire and thermals it's time to take up the delicate art of winter layering. It takes some smart planning and a keen eye to put together a cohesive outfit featuring what can sometimes be up to ten layers of garments. Here's what a few experts have to say about how to balance proportions by mixing different silhouettes; how to avoid looking winter drab by incorporating colour and prints; how to put your returning staple to good use; and, perhaps most importantly, how to accessorise.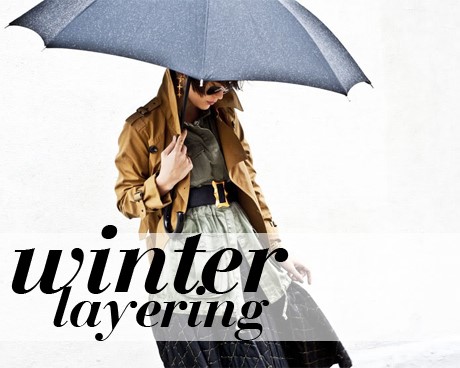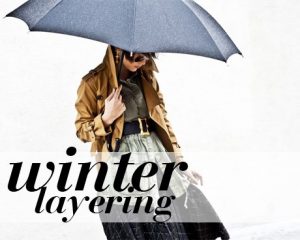 Winter fashion tips: Have fun with accessories 
In wintertime, accessories are plentiful: scarves, snoods, beanies, hats– the possibilities are endless. If wearing a wrist-exposing cape, invest in a great pair of knit or leather gloves — you can embellish them with chunky bangles that are easy to slip on and off. An over-sized chunky scarf or jacquard wrap can add an amazing amount of warmth, so much so that you can ditch that heavy winter jacket for a lighter leather one. Top it all off with a stylish topper, whether it's a knit short brim hat, a felt fedora, or colourful earmuffs, because these are the pieces that really allow you to express your personal style.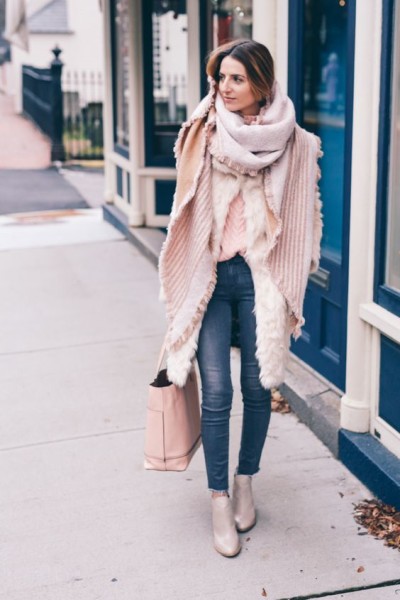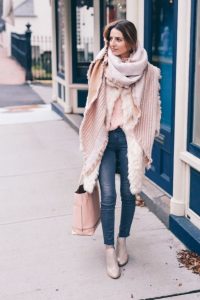 Winter fashion tips: Balance proportions
Multiple layers tend to add a lot of bulk to one's appearance, so it's important to balance out proportions. Pair your chunky sweaters, cardigans, or bulky faux-fur pieces with slimmer bottom silhouettes. Items like cigarette pants, slim-cut jeans, or leather leggings — leather is ideal for warmth — can really show off your figure underneath the layers. Or on the opposite end, wear your favourite wide-legged trousers with a slim wool coat to elongate the silhouette.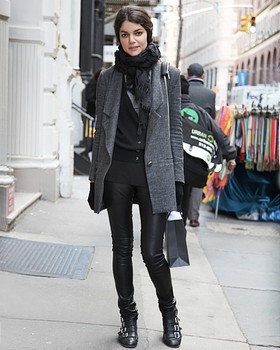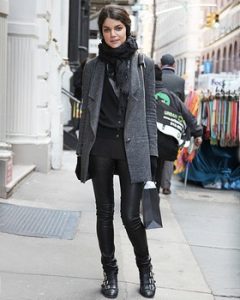 Winter fashion tips: Mix in colour
In winter – especially when layering – we tend to gravitate towards a monochromatic palette of black and grey. Add some colour to your day by mixing in one bright item into your outfit, whether it's a sunny yellow sweater, a printed scarf, or even scrapping your everyday black pump for coloured ones.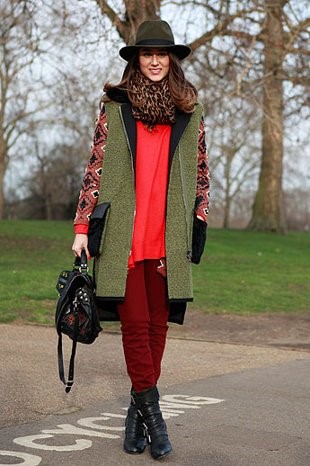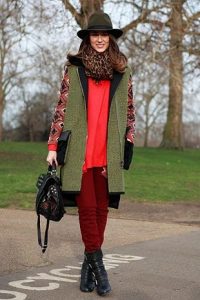 Winter fashion tips: Incorporate spring items to mix up textures
Wearing all knits for months on end can get pretty monotonous. If you are getting eager to bring back your favourite spring garments into the mix — or to introduce some new ones — you can do so by layering with your warmest attire. For example, wear your little denim jacket under your wool coat or with a fur (or faux fur) vest, bring your floral silk dress out of the "summer box" and layer it under a knit cardigan.